Our trainers are the best in the business. In fact, they are not just trainers…they are Fitness Professionals, hence the title of "FitPro".
Our trainers have varying degrees of backgrounds, experience and expertise. We only hire the best and the FitPros at Fitness 1440 Marietta are focused on 1 thing….your results.
As a member of Fitness 1440 Marietta once you become a member you will be assigned a FitPro who will spend 2 hours with you in your first week to make sure you have all the necessary information, guidance and tools to reach all your fitness goals.
Then, every 8 weeks you are able to meet with your FitPro, absolutely FREE, to make sure you are staying on track and accomplishing your fitness goals.
Fredo 
I'm a huge sports and fitness fan. I played college soccer and fast track runner, so the beach volleyball is my favorite sport, but exercise is my daily therapy to stay focus, in shape and my passion.
 Natural Bodybuilding Professional
World Fitness Model
Elite Personal Trainer (NASM, US Career Institute, ER Global Certifications. Transcript ID: 2399349
Exercise Physiologist & Nutrition Specialist
Major in Bank and Financial domain
CEO,  Co-Founder and Executive Producer of the UFASHOWS Netflix tv series, a cutting-edge sports, fitness and bodybuilding reality show, branded under the leadership of a committed production team.
As a former Haitian Us Ambassador's Marine Corp body-guard and Instructor, I worked for many companies globally as a fitness professional and model as a passion for the industry, over 18 years of experience in strength training, cardiovascular and members acquisition.
I recently graced the opportunity and featured in Flex Magazine for endeavor's suite of professional services offering and as own-self walking testimonial, and herein for one more time I extended my passion and services to the Fitness 1440's members in helping "YOU' make health and fitness your way of experiencing the uncompromising quality that meets the health and fitness of the entire family.
Carole
Carole's passion is helping seniors maximize their fitness, taking into consideration any physical limitations her clients may have. "Over my 28 years as a physical therapist, I saw firsthand how general fitness can make all the difference after an injury. Accidents will happen, but those who were regular exercisers recovered much more quickly than those who were sedentary prior to their accident."
Carole uses the functional training approach, with most exercises performed while standing. In this way, the whole body works in a coordinated way, like normal daily activities.
Carole graduated from Georgia State University with a BS in Physical Therapy in 1985. She retired from P.T. in 2013. She began personal training with seniors after obtaining her ACE Personal Training certificate in 2012. She also has her Health Coaching certification from ACE, obtained in 2014
Al
Hello fitness family, I am Al Jordan a fitness pro with Fitness 1440. I was born and raised in Georgia, moreover, fitness and athletics have been a huge part of my life. From my early years as youth and up to the collegiate level, I have been a stand out athlete due to my training. I am currently a Certified Personal Trainer through ISSA, and my training style consists strength and endurance training, as well as, core and flexibility training. I have a strong passion for health and fitness, also, I'm very willing to help others along their fitness journey. When I am not at the gym or training, I enjoy a variety of sports such as, football, basketball, baseball, boxing, and pretty much anything that involves competition. Some of my hobbies are of course working out, jogging, DJing, gaming, traveling, wine, and enjoying the occasional evening out.
Paul 
My name is Paul and I am one of your personal trainers here at Fitness 1440 Marietta. I was a firefighter with Volusia County Florida, (Daytona Beach Area). I recently retired and brought my talents to Georgia (a little LeBron James reference for you basketball fans…) Along with being a firefighter EMT I was the director/Chief of the department's fitness team. I would train our firefighters to make sure they were physically capable to do our job at the highest levels to protect, serve and keep our community safe.
I also trained our trainers to provide the best workouts for the 'on-the-ground' firefighters. I am a certified personal Trainer through both ACE Fitness and The American College of Sports Medicine. Besides training others, I am also a amateur Bodybuilder— a 4 time NPC National Qualifier and I won competitions such as the Dexter Jackson classic in Jacksonville Florida and the All South Championships in St Augustine Beach. (I have a lot of experience with cutting fat and losing weight).
I am very excited by the opportunity to share my knowledge and expertise with all of our members here at fitness 1440.
Heather Lewis Assistant General Manager
Heather Morticia Lewis was born when a top-secret medical experiment resulted in conjoined twins; her half-baboon, half-chimpanzee sibling ultimately did not survive, but the scar on Heather's left side can still be seen.
In grade school, Heather was recruited from the 3rd grade to attend a clandestine government training school for youngsters showing high potential in international espionage.  By age 11 she had led 57 special ops missions on 4 continents.  Eventually her cover was compromised by a North Korean double agent, and she completed junior high under witness protection.
Her interest in music led her to serve as a roadie for bands including Metallica, Quiet Riot, Poison, Whitesnake, and Scorpions.  But unable to reconcile her love of hair metal and carnival work, she left to become the Midwest's most famous Bearded Lady when she wasn't operating the Tilt A Whirl while guzzling Mad Dog 20/20 and scrounging for discarded bits of cotton candy and half-smoked Pall Malls.
She ventured briefly into politics while serving as a state court judge after the carney bus broke down in rural Kansas.  But her reputation as the "Iron Enforcer" for pursuing the death penalty for minor traffic violations made it difficult to survive re-election.
After meeting the love of her life, handsome gambler, billionaire bitcoin miner, and men's underwear model Patrick Lewis, she settled down to help at her daughters' elementary school and operate the child care center at 1440 fitness.  She served on the management staff and became a personal trainer, only occasionally working as a soldier of fortune after hours.  If you can find her (look on Craig's List) maybe you can hire Heather M. Lewis for all your revenge needs.
Dave 
David Evans transformation is one for the books! David started off simply focusing on losing weight and did so by practically starving and working himself to death to get there. But that did not solve the real problem, one that is not just about the body but about the whole person, mind body soul and spirit. David was on several medications for blood pressure, sleep issues and ADHD.  After marrying his wife, who pestered him to death about really focusing on whole body health, David finally took the bait.
He left a grueling life consuming career for a challenging more balanced work/personal life and started running again. He started with training for 5k's and found that he loved to run but that it was not enough to keep him consistent in the gym or even doing cardio every day. Then David found a fitness method that worked for him. He found he looked forward to going to gym every day and having a coach who really invested in him made a massive difference.
Not only did he loose 40 pounds, stopped taking all medications He looked and felt amazing! He realized that if he could do it after 40 so could others they just needed someone to give them a hand. David decided to get his ISSA personal training and apply the passion and personal touch he learned from his coaches to personal training! Working out does not solve all of life problems, but David knows that if you can feel good inside and out, you can handle what life throws at you with more grace and strength!
Chris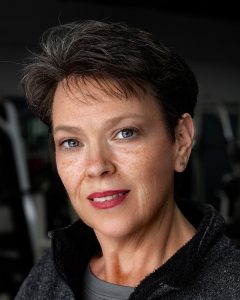 My name is Chris Weisbarth and I am a Certified Personal Trainer and Group Fitness Instructor. Being physically active has always been a part of my life since childhood playing sports. After being married and having children I took a 22 year break from being physically active which resulted in a final weight of 283 pounds.
A few years back I made the decision that I should apply my knowledge of fitness and nutrition to my own life and regain my strength, mobility and health. My fitness journey began shortly after becoming a grandmother. I increased my knowledge of Wellness and Detoxification along with cardio, strength and functional training.
As I achieved my goals, I would set a new goal and attain additional knowledge to move myself forward. In my personal journey I found the ability to motivate others. Through motivating others, I discovered the passion I had to help others achieve their individual health and wellness goals.
My previous experience working in the hospital setting with patients who had suffered joint replacement surgeries and other muscular/skeletal injuries has provided me an insight into the need to customize the individualized client program. My focus is to offer the latest modalities for functional fitness, to improve the clients overall health and to assist them in attaining a total sense of well-being.
If you are ready to get results, I am the FitPro for you.
Brittany 
Brittany has always had a passion for health and fitness. Growing up, she was involved in a variety of sports including softball, volleyball and color guard. After getting married and having children, the busyness of life began to catch up to her, and she had put on unwanted weight.
In 2015, she became self-motivated to get healthy again and went through her own weight loss journey by changing her lifestyle and habits, such as eating right and working out. By going through this process, she was inspired to help other achieve their own personal and fitness goals, making personal training the perfect career path for her.
As a mother of two, Brittany knows the importance of staying active and healthy while balancing a quality family and social life. Brittany enjoys such as spending time with her family, going to dinner with friends, working out, attending her children's sporting events, and much more.
As busy as life can be, she made her health a priority and earned her Personal Trainer Certification in order to extend her knowledge to others who want to better their quality of life.
Haley 
Haley has been immensely involved in the gym since birthing her son, 6 years ago. Prior to childbirth she never struggled with maintaining a healthy weight but did see the value of exercising.
Haley began working with personal trainers after a few months of attempting to "google" her way to success. Motivation and discipline has never interfered in her obtaining goals but she understands we all need to seek assistance at times. She lost 50lbs within a year of child birth while she had only gained 40lbs during pregnancy.
In 2015, Haley began weight lighting and mid-year reached her goal of pull-ups and 8 minute mile up-hill runs. She hit a major set back after a car accident in July 2017 and had to eliminate all weight lifting for 6 months before starting back with 10lb weights. Today, Haley still practices therapeutic exercises and has resumed weight lifting, nearly regained all of her strength.
Haley has a passion for helping others and sharing the knowledge she acquires. She is quick to share what she knows and never hesitates to seek answers when she is unsure. She understands each person has different objectives and body types. Haley has a desire to help others meet goals and feel confident in their skin while learning about what their individual needs consist of.
Maddie 
Maddie has been a trainer for over 3 years. Prior to becoming a trainer Maddie had a career in social work. She has found her social work background has made her a better trainer by helping people set nutrition and fitness goals while considering all areas of their life.
Maddie is certified in Russian Kettlbells, TRX and a Nutrition Coach through Precision Nutrition.  Maddie spends most of her days chasing around her toddler with lukewarm coffee in hand, wearing leggings and utilizing lots of dry shampoo! She knows the demands of motherhood and all the variables that can prevent mamas from prioritizing their health. She loves empowering and encouraging women and moms to find the best ways to incorporate fitness into their everyday life.
As a trainer she strives to challenge her clients safely to get stronger, healthier and happier. Outside of the gym you may catch her hiking with her family, eating tacos, or rewatching Gilmore Girls for the 567th time.
Frank 
Frank has been physically active and enjoyed competition all of his life. A wrestler and football player in high school, his teenage dreams were shattered (LOL) when he learned he was not nearly talented enough for college sports. At Vanderbilt University he joined the Tae Kwon Do team and was on the traveling team competing in meets around the Southeast.
Upon graduation from Vanderbilt, he was commissioned an Ensign in the US Navy and received orders to BUD/S (Basic Underwater Demolition/SEAL training) in Coronado, CA. Upon successfully completing training he received orders to SEAL Team Two in VA Beach, where he served for 5 years as Officer-in-Charge of an operating SEAL Platoon with deployments around the world.
After the Navy, Frank moved to Atlanta and worked for a top tier Investment Bank for 10 years. Changing course, Frank started a business growth strategy practice and has been an active consultant with global clients for 28 years.
In 2011, after 35+ years of long-distance running, a knee injury/surgery forced him to give up running. At age 59, Frank took up barbell training as his primary form of training.
Training continuously, Frank has entered 7 Powerlifting meets, winning his age group and/or weight class in every meet.  In Jan 2019, at age 66, he won Masters Open in the US Strengthlifting Federation National Championships meet in Texas and will be competing again in Nationals at age 67.
Frank's goal as Personal Trainer is to help people of all ages and experience levels add muscle mass and get stronger, through the safe and proper use of barbells, to lead fuller and more enjoyable lives.
Fidel
Fidel studied Economics and Psychology at Georgia State University. He loves sports, mainly soccer. For three years he was the Team Manager for the GSU Men's Soccer Team. After that he returned home to help his family battle through some health issues. Witnessing his family struggle with poor health motivated Fidel to involve himself further in the health and fitness field. He figured there had to be ways to improve their lifestyle, so he decided to obtain his ACE certifications in Personal Training and Behavior Change. In addition, he is a Certified Strength and Conditioning Specialist.
Furthermore, he has fought back numerous injuries from soccer and should probably quit playing altogether. But he is too stubborn to stop. Instead he prefers to use the experience gained bouncing back from knee, ankle, and back injuries to help clients regain their confidence by strengthening those areas of concern and improving overall performance. He is also helping clients improve body composition, lose weight, gain muscle, prepare for athletic events or just move better again. Fidel works with anyone committed to improving their health and lifestyle no matter how challenging it might seem.